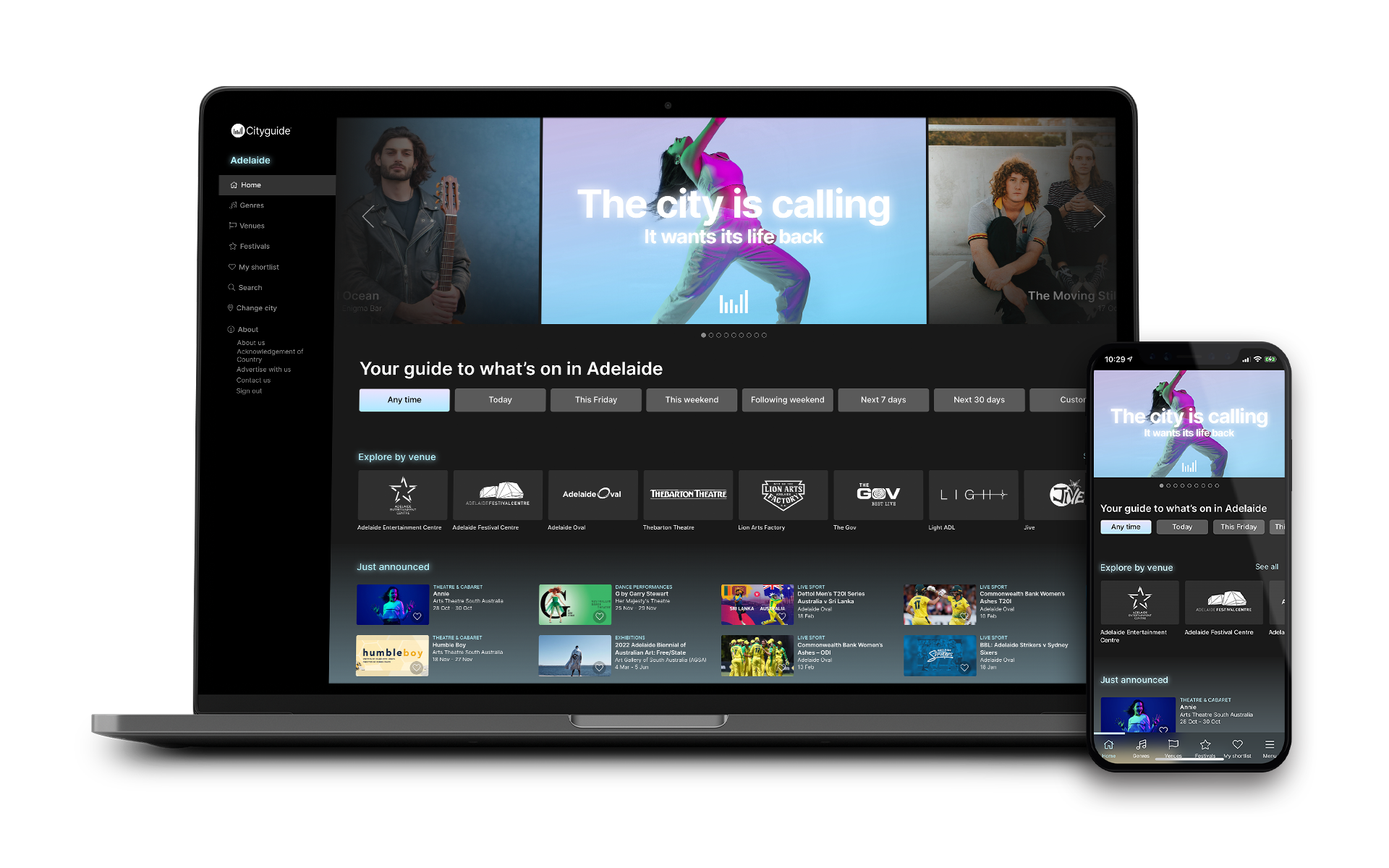 Advertise with Cityguide
Be featured on Cityguide: Adelaide's premier event discovery platform
Increase exposure, reach new audiences and grow ticket sales with Cityguide's industry-leading events advertising system.
Designed for every kind of event creative
Artists
Organisations
Producers
Venues
Festivals
Agencies
Upload your events and make them shine
Start by uploading your event description, add a hero image, and choose to include a video trailer or Spotify playlist. Then provide the session and ticketing information.
Whenever an event expires, it is automatically archived.
Get started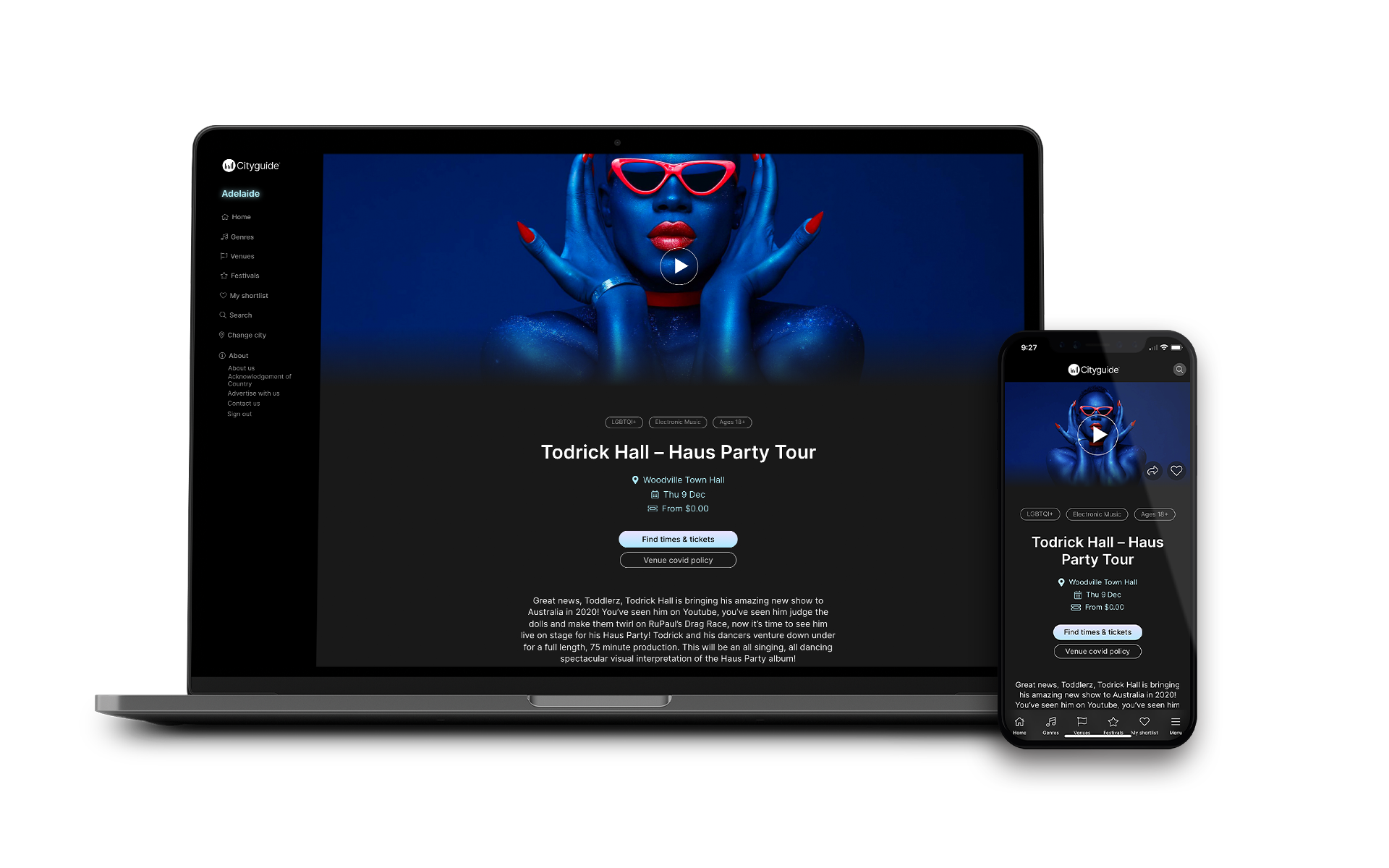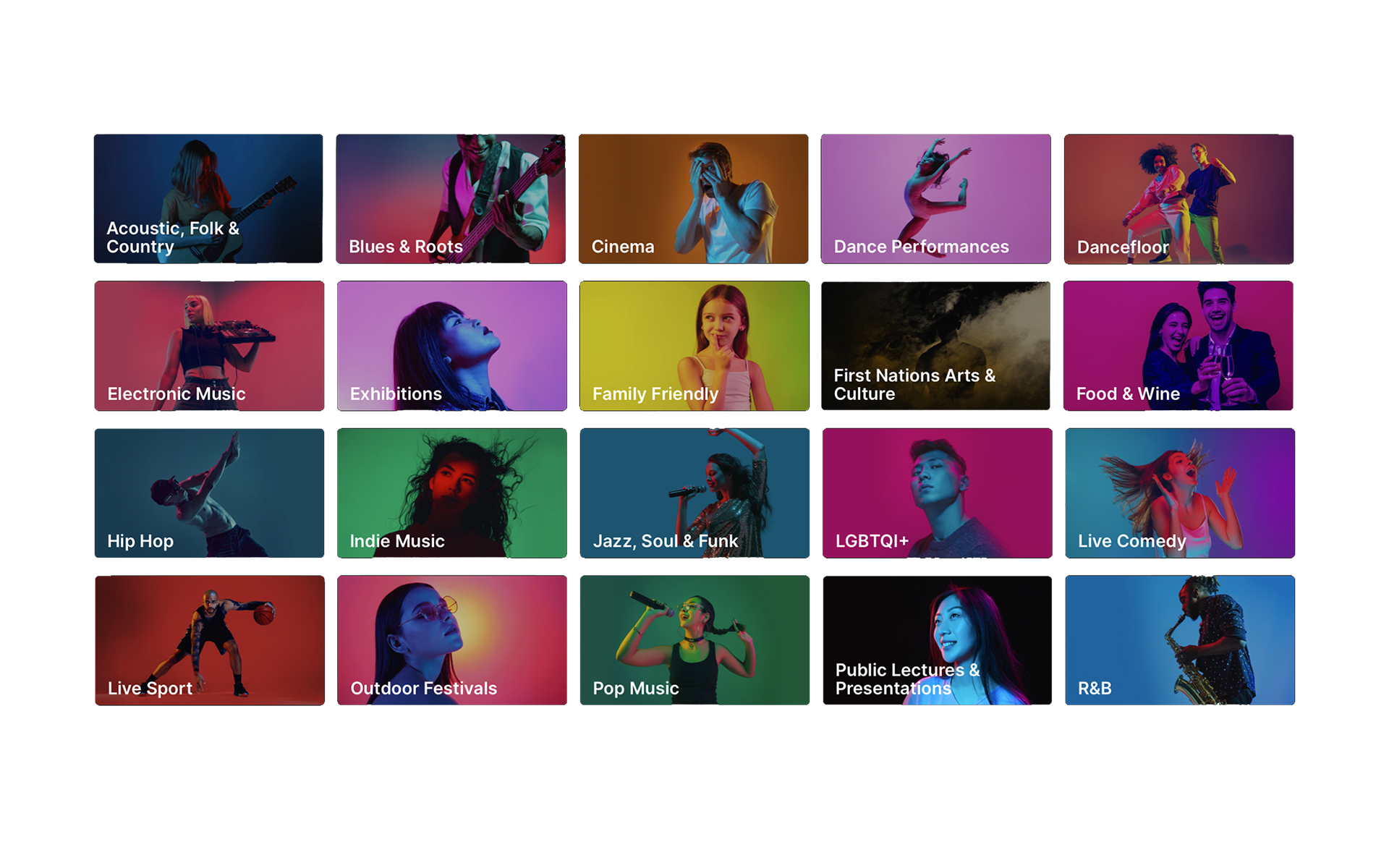 Custom built to accommodate events of all shapes and sizes
Whatever the format of your events – from one-off gigs, to multi-session theatre shows, temporary exhibitions with irregular opening hours, multi-venue cinema screenings, to weekly recurring markets, ticketed or unticketed – there's a way to get published on Cityguide.
Get started
Showcase your program of events with a customised profile page
Feature your upcoming lineup of events on your own Artist, Venue, Organisation or Festival profile page.
Customise your page with unique imagery, video content, social buttons, colours and text, plus links to your website.
(Organisation and Artist profile pages coming soon)
Get started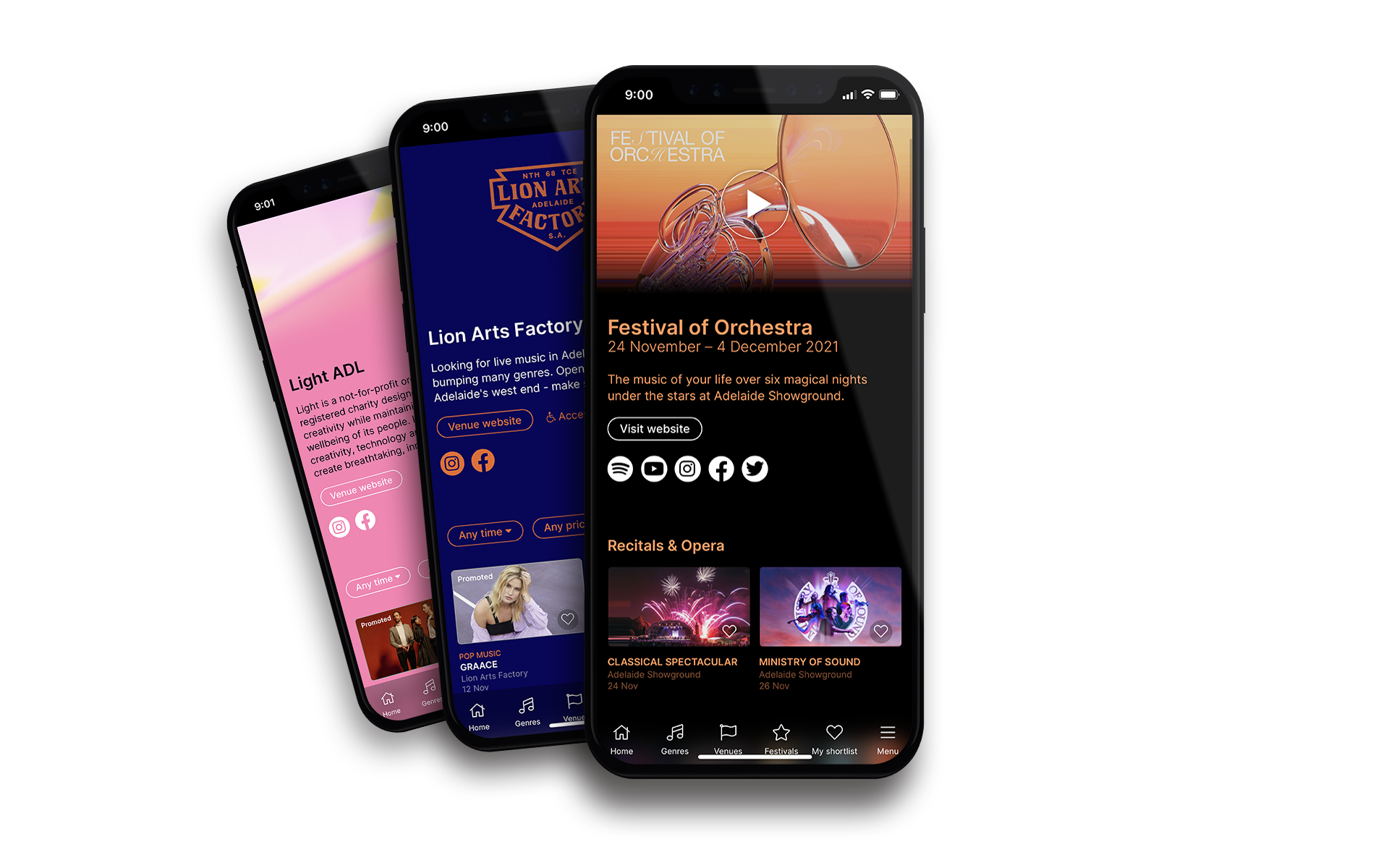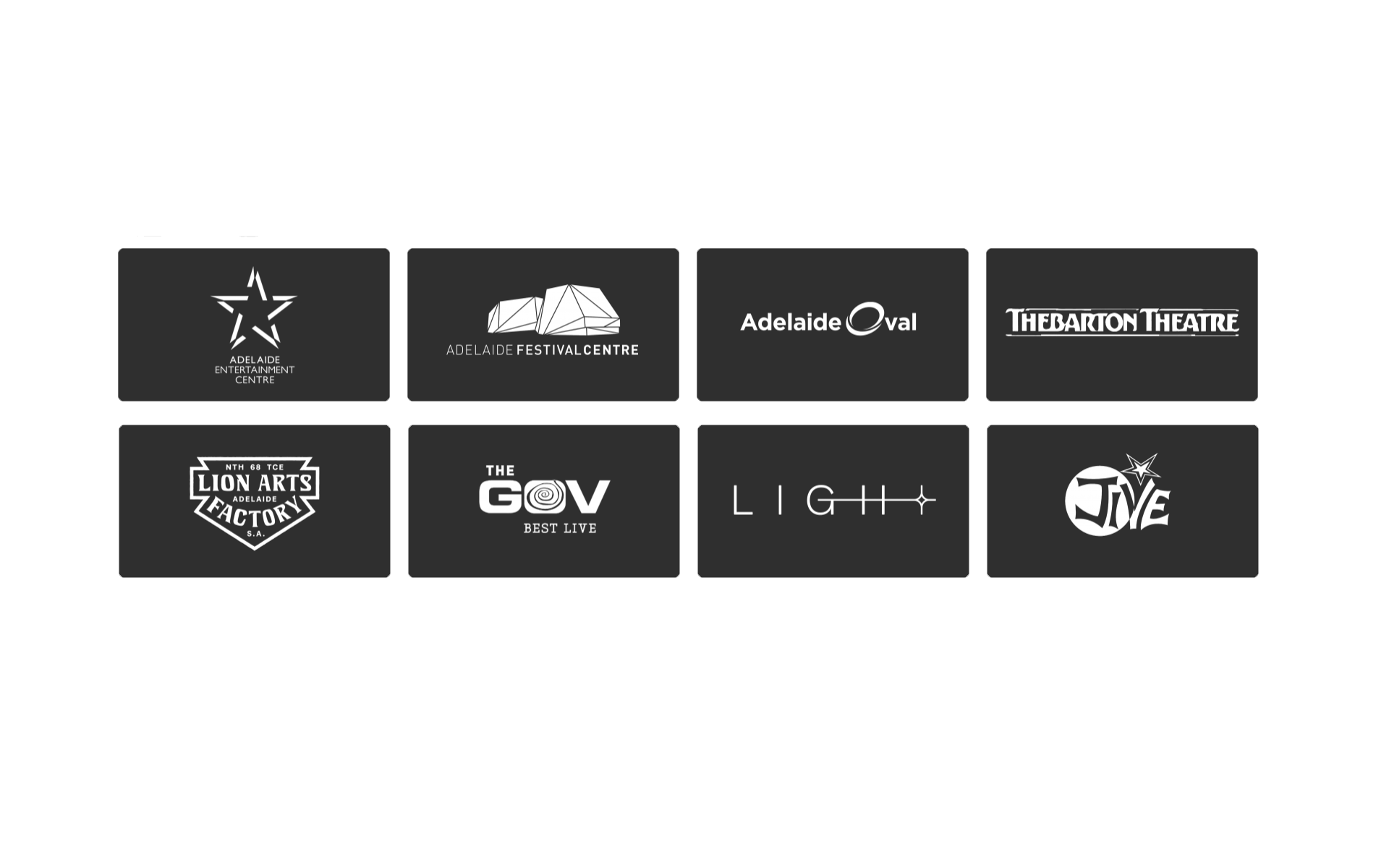 Paid feature
Have your venue or organisation featured on the homepage
For an additional fee, venues and organisations can get their logo featured on the homepage – connected directly to their profile page.
The fastest way for users to discover and explore events unique to a single brand.
Get started
Publish, edit, pause or reschedule events with ease
Rescheduling, pausing or adding new sessions is a breeze with our two-step upload process:
(1) event description + media
(2) session info (venues + times + tickets)
If your event is touring or repeating, there's no need to upload multiple events to the system – you can just add more sessions.
Get started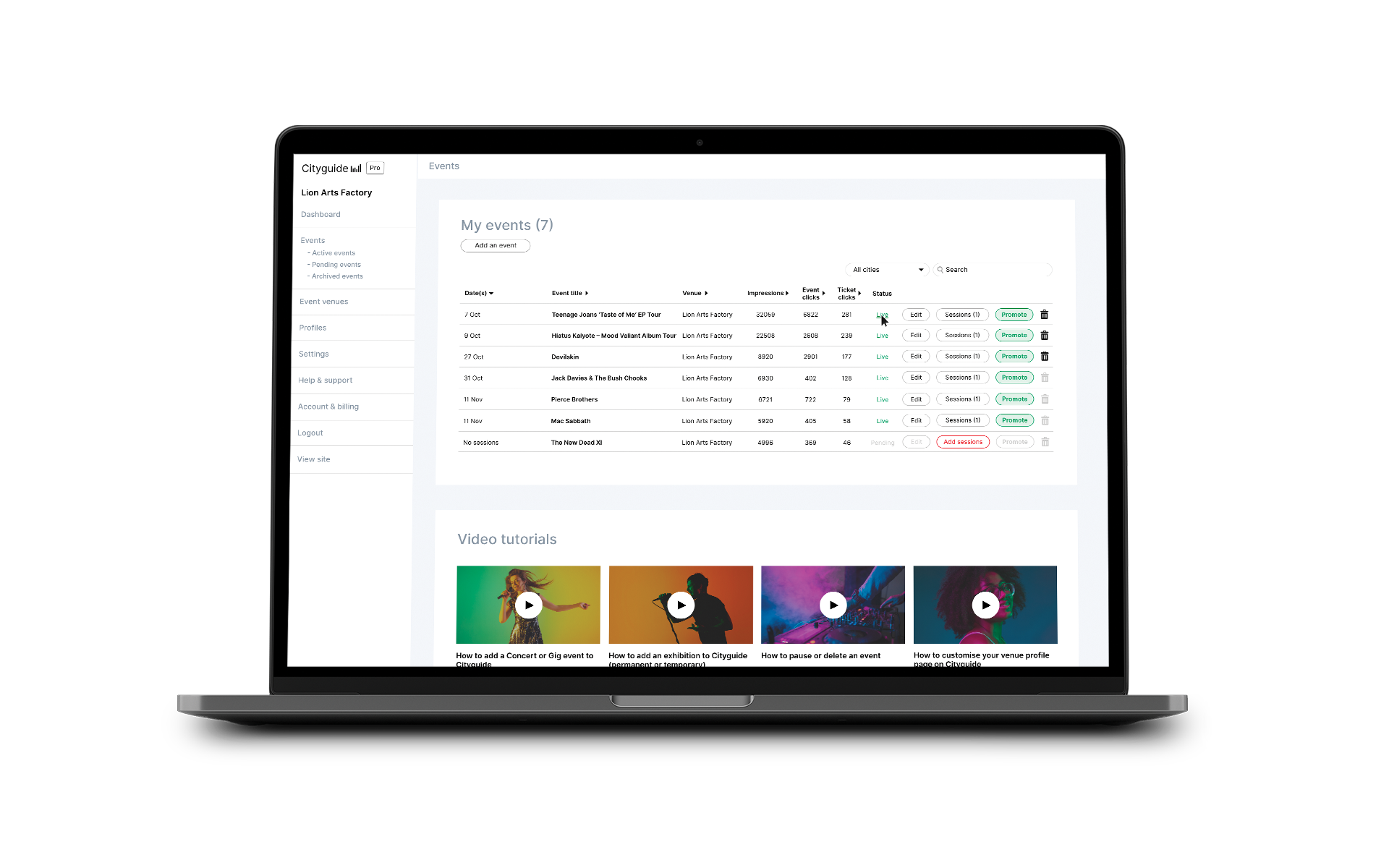 Collaborate with other artists, venues, organisations and festivals (coming soon)
Tag other Cityguide admin accounts to allow joint data ownership, shared insights, and ability to edit content.
Increase the exposure of your events by having them feature on other artist, venue, organisation and/or festival profile pages, where appropriate.
Get started
Keep attendees informed about health, safety & accessibility
Vaccine passports essential? Face masks required for entry? Wheelchair accessible venue?
Cityguide's event upload process make it easy to communicate your event's health, safety and accessibility measures. All you need to do is tick a few boxes when uploading event data.
Get started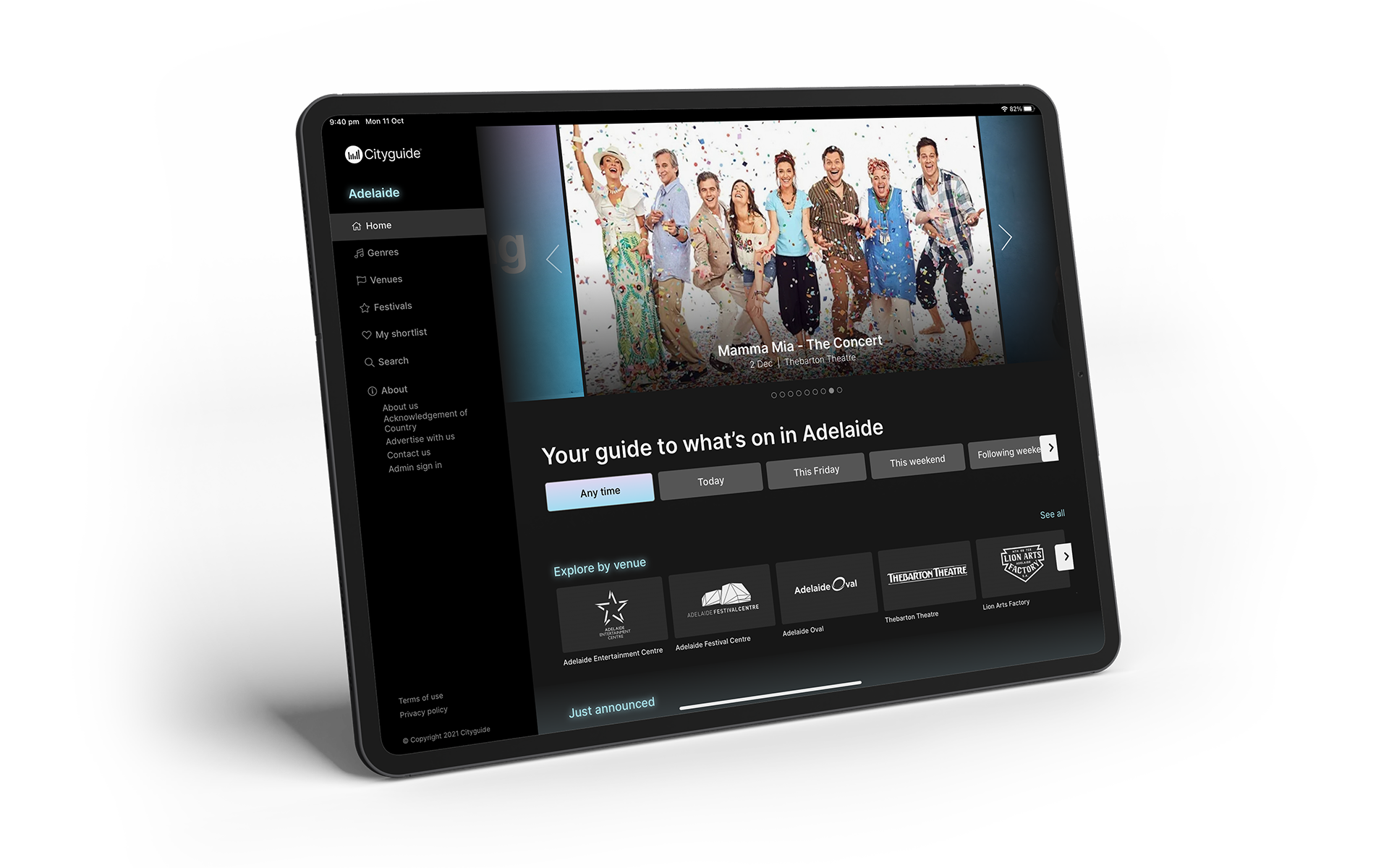 Paid feature
Make a headline impression
Get your events highlighted on the Cityguide homepage with a headline banner – the first thing our app and website users see when opening the platform.
Contact our team for further information.
Paid feature
Skip the queue & get your events featured up front
Purchase a genre queue jump to get your event featured at the front of its respective category.
Your event will say 'Promoted' in the top left corner and appear at the front of the genre strip on the homepage. It will also be highlighted within the genre page.
Contact our team for further information.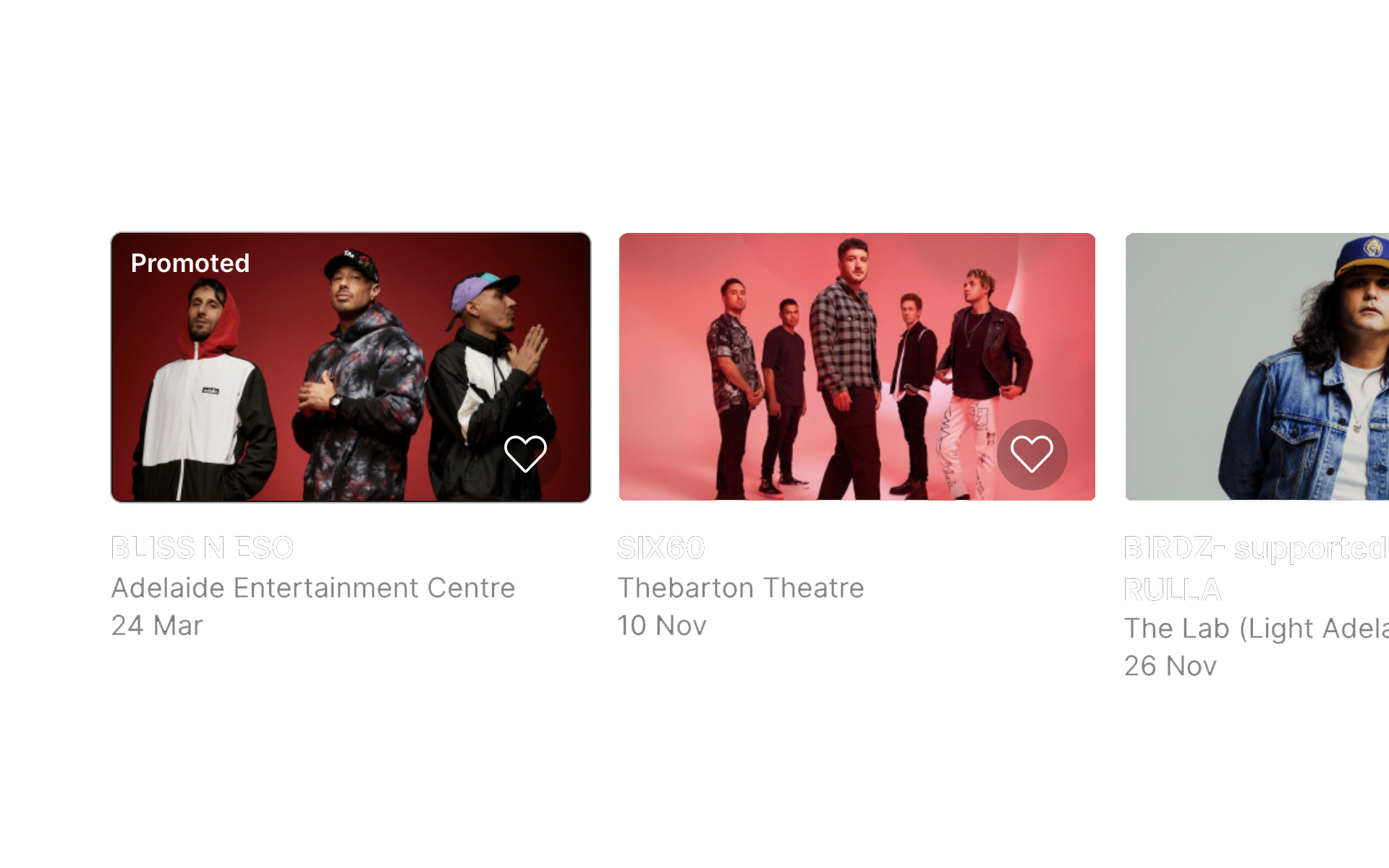 Paid feature
Engage with Cityguide's email subscribers (coming soon)
Have your event or events program featured in our regular email sendouts to Cityguide subscribers.
Contact our team for further information.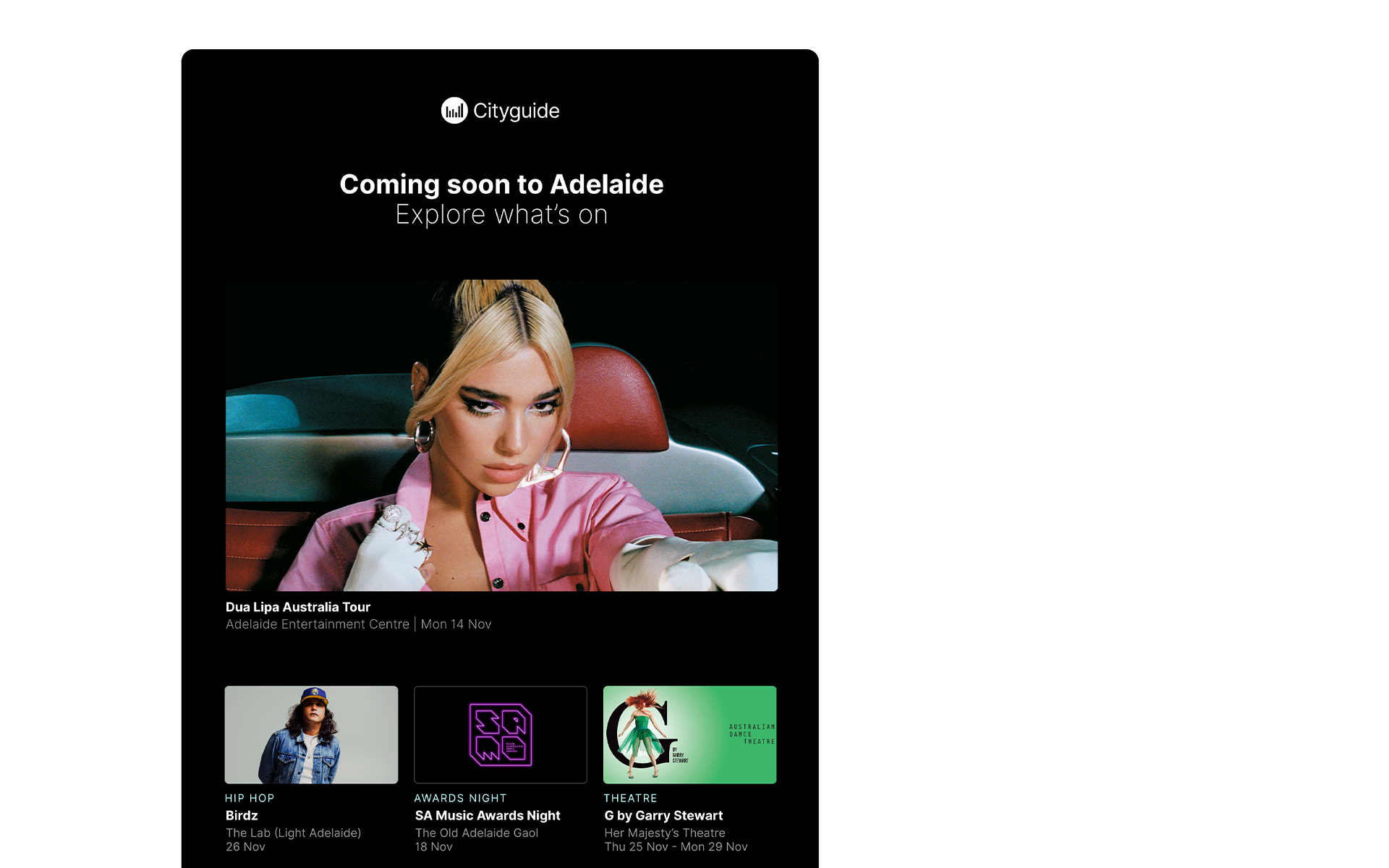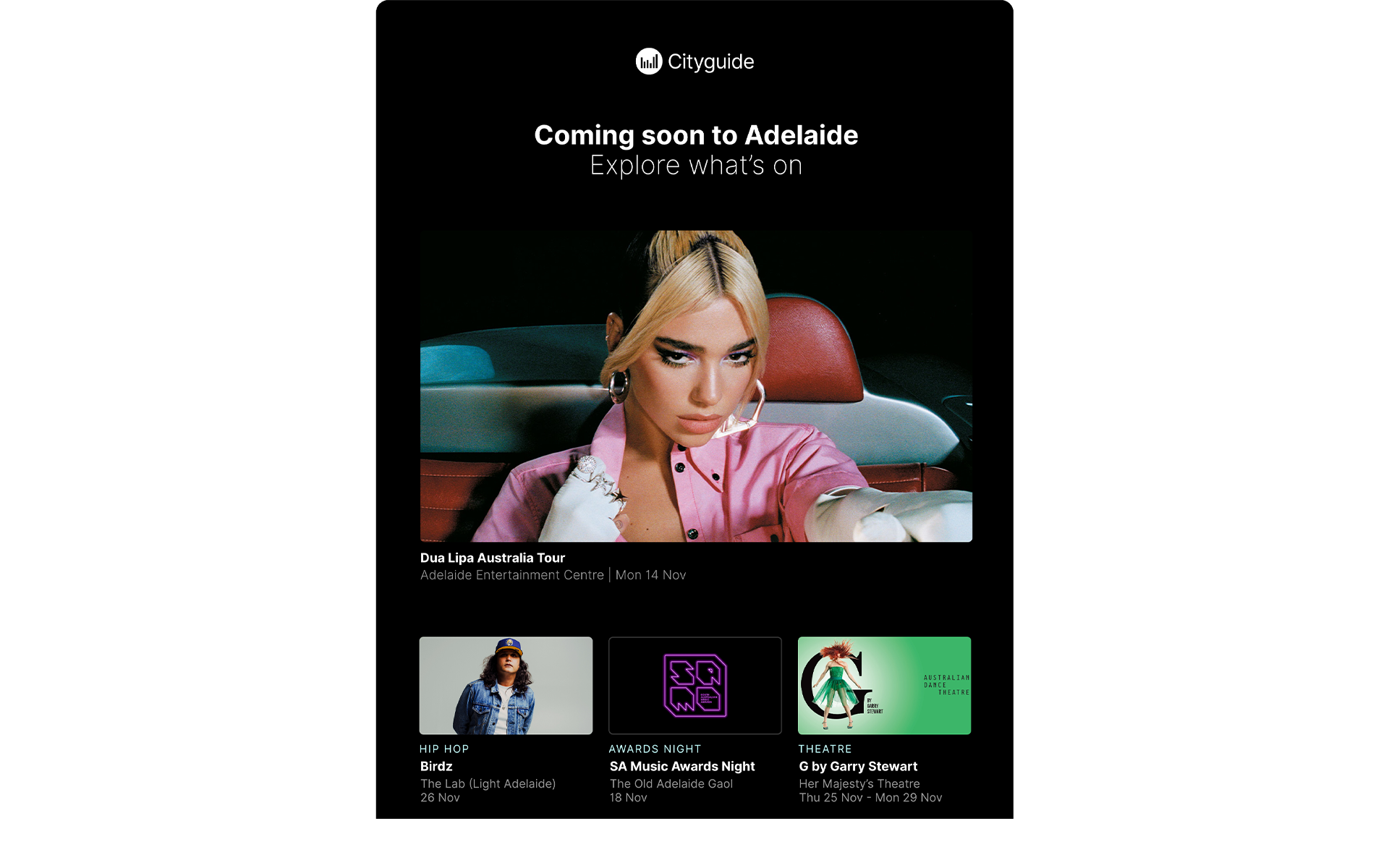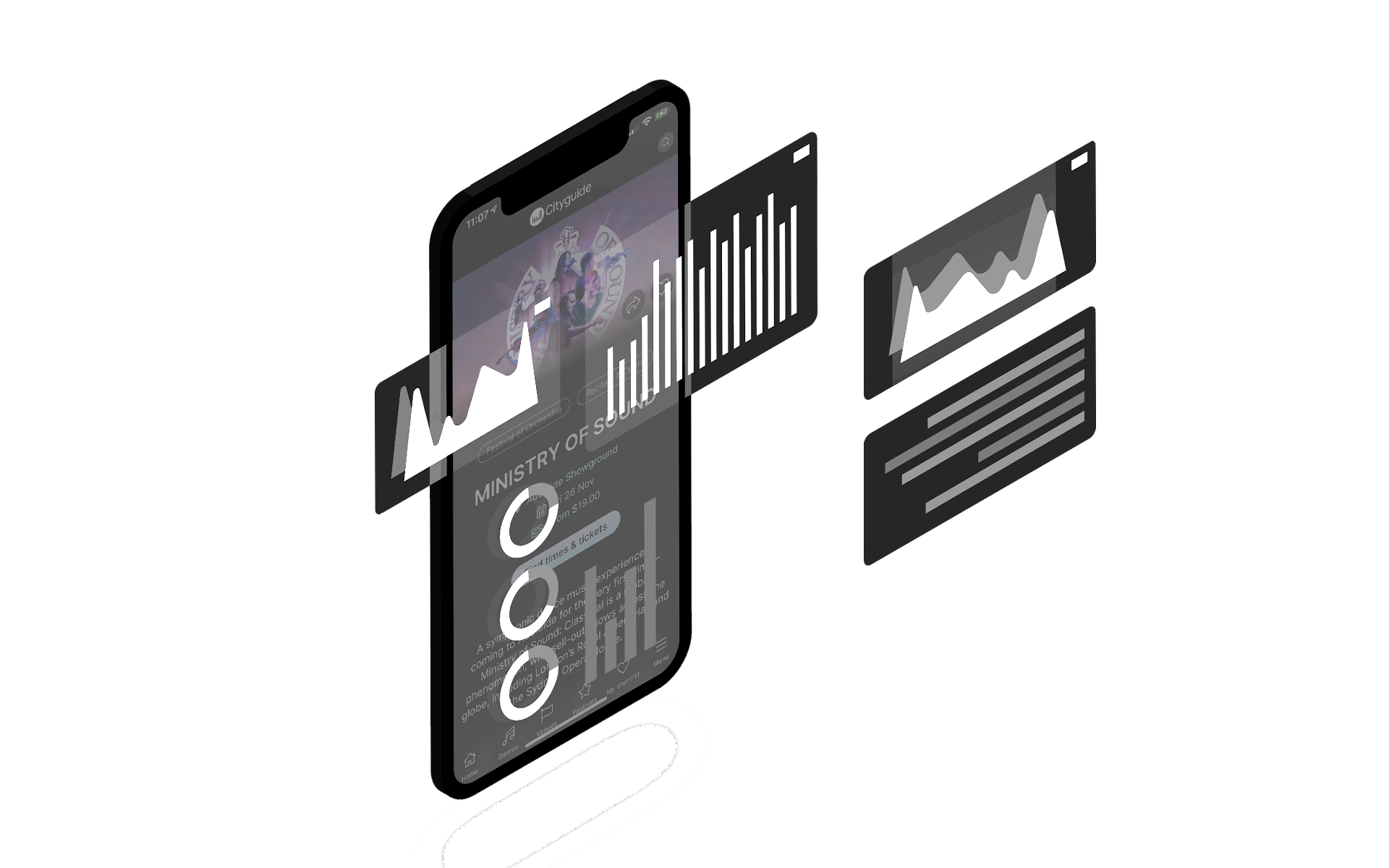 Paid feature
Gain insights with event analytics (coming soon)
View the total number of impressions, event clicks and ticket booking clicks for your events via the admin dashboard.
Coming soon.